Conservation inspiration: creative thinking
Environmental education, recycling, and planting to help bees are three of the key initiatives that David Bellamy Conservation Award assessors spend their time encouraging parks to put in place. At Riverbend in Wales, the park team has done all three in innovative ways.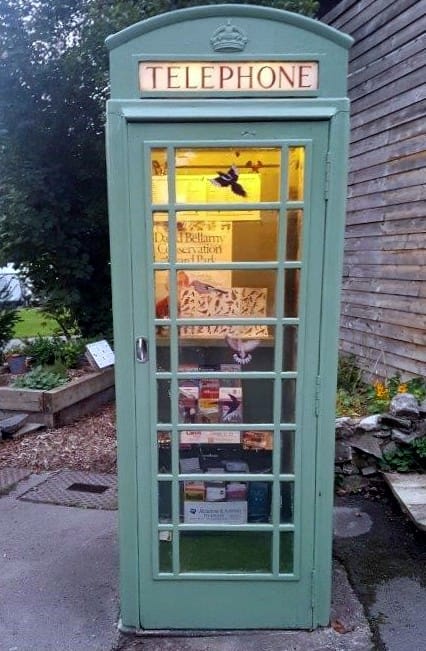 First, they've restored an 'Old Grey Fergie' tractor that they found rusting away, creating a centrepiece that makes all their visitors smile. Second, they've lovingly restored a traditional telephone box into a wildlife information point. And third, they've turned a formerly unkempt corner of the park into a beautiful, communal Bee and Butterfly Garden that boasts a wealth of plants that attract bees, butterflies and other insects.
"We came to Riverbend from very different careers so it took us a while to get into the swing of things," says Park Managers, Angie and Lindsey, who only recently took over the park. "As we started making changes, we came across a Fergie that needed a bit of TLC. We believe it belonged to the father of Denis Lloyd-Jones, the current director of Hillandale Caravans.  We sanded it down, researched the original Fergie colours, painted it, and found it a new home in the centre of the park where people could appreciate it. The compliments we received encouraged us to make more changes."
The telephone box was another one of Angie and Lindsey's finds. It was dis-used and in need of a revamp and they got the idea to paint it in environmental colours and fill it up with visitor information, promoting the beautiful Welsh Countryside.
"The telephone box is also home to a wildlife record book in which customers are encouraged to record what they see," the Managers explain. "To inspire birdwatchers, when you open the door you hear a musical tweet from a finch."
The bee and butterfly garden was developed thanks to Angie and Lindsey's love for wildlife.
"Throughout our first season we saw some amazing butterflies and wanted to encourage more," they explain. "We started researching what they like to eat and drink."
The managers then decided to get some outside assistance and took their idea to Neville, the manager of The Derwen Garden Centre, who was a big help in letting them know what species were best to plant.  Two weeks later the chosen patch of ground, which used to be a rubbish dump was cleared, levelled and sections marked out.
"We built an area with sleepers, raising it three feet off the floor, and filled it with lavender," Angie and Lindsey explain. "Then we started on the surrounding area and filled as much as we could with plants and flowers that butterflies and bees love.  About three months later our garden was in full bloom – you would not believe how many butterflies and bees have visited."
Seeking inspiration for new ways in which your park can help protect the natural world? In these articles, Rufus Bellamy, head of the David Bellamy Conservation Award Scheme, highlights some of the latest initiatives being taken. For more ideas, visit http://stayuknews.co.uk/conservation/